Megan Hess
and the Art of Fashion Illustration

M
egan Hess is one of the most identifiable fashion illustrators and print designers, working with Chanel, Dior, Tiffany & Co., Cartier, Montblanc, Balenciaga, Guerlain YSL, Vogue, Harper's Bazaar, Fendi, Ladurée or even Michelle Obama. The list is long.
Her drawing style seems so effortless and radiates luxurious elegance and beauty. She creates images of the world's most groundbreaking fashion and its most beautiful women. From Coco Chanel, Audrey Hepburn to Grace Kelly and Elizabeth Taylor, capturing the essence and spirit of women like no other image maker before her. She also established fairy-tale-like silk scarves, cushions and kaftans. Agata Mayer: Megan, you are working with many iconic clients. Your career is like something out of a dream. How exactly did you get started? Tell me about your journey into fashion illustrating. Megan Hess: I studied Graphic Design because it felt like a 'real' job in the art world, but really always wanted to be an illustrator – I just never knew back then that it was a possible career choice! After working as an Art Director in Ad agencies for several years I packed everything up and moved to London. It was in London that I worked in a million different creative jobs and in my final job there I realized that I had a burning desire to be an artist. At this time I'd became the Art Director for Liberty Department Store. Whist I loved art-directing fashion I loved illustrating it more. I started to do very small illustrations for Liberty and from this art directors saw my work and little commissions began to follow. After about a year I found myself with non-stop work. I wasn't earning a fortune but I'd never been happier and I knew I was going to do this forever. A.M. Amongst all these big names I also see Candace Bushnell – author of Sex and the City [the book], who created the character of Carrie Bradshaw. I know that your big break as an illustrator came when you were asked to illustrate all the covers for Candace. Could you tell me more about that collaboration? M.H. As my clients got bigger and better I was able to be a little more selective and just work on briefs that I knew had a great creative opportunity. Then in 2006 I got a call in the middle of the night from Candace Bushnell's publisher asking if I would illustrate her next novel 'One Fifth Avenue'. This was when things took off at rapid speed for me. Her book became a New York Times best seller and I met with Candace and she asked me to illustrate all her previous books including the cover of 'Sex and The City'. Once 'Sex and the City' was released I was contacted by TIME magazine and Vanity Fair magazine in New York to create portraits for them. This was a dream come true. Following this, I began illustrating for Tiffany & Co, Chanel, Dior, Cartier, Vanity Fair, Italian Vogue, Bergdorf Goodman, Laduree….. Ironically, at the same time as my work finally took off I had my first baby!! Its funny, I always tell people that I haven't really slept since 2006!! A.M. As fashionable trends were accelerated by the implementation of more sophisticated production and distribution processes, fashion magazines such as Vogue or Harper's Bazaar became fundamental to the dissemination of style to an ever-increasing audience. During the 1930s, illustration began to be challenged by photographic work. This was a major turning point in the fashion industry. Fashion illustration not only became less aesthetically popular, but also less convenient. Advertisers depended on illustrations only to sell their goods. There was just one conclusion – that a photo cover sold more copies than an illustrated one.Do you think that there ever will be a resurgence of fashion illustration in magazines? Or has contemporary times irreversibly changed the function of fashion illustration? M.H. It's very true that today Photography is much more widely used than Illustration. The downside to that is there are much less illustrations used than photographs in general. The upside is that, is that illustration has become more bespoke, more personal and more valuable. In a strange way, if there was a much higher usage of illustration everywhere it would actually decrease its value, so in many ways its perfect in the way it currently sits in our visual world.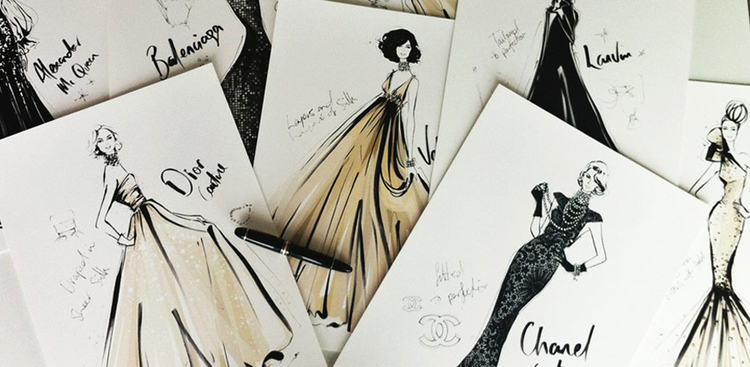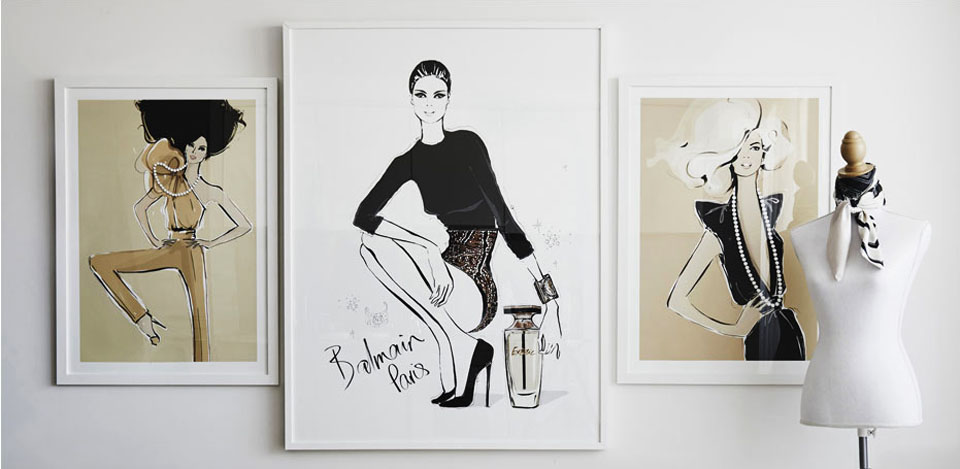 A.M. Fashion illustration has been an industry tradition for nearly 500 years, ever since clothes have been in existence. Does history also play an important part anywhere in your creative process? M.H. I think you always have to look to the past to completely create something new for the future. In terms of fashion Illustration, its interesting to see that many classic poses that were used 100's of years ago are still very much used today. Its goes to show that a great usage of line work is timeless. A.M. Over time, methods of illustrating styles have run the gamut from pencil and ink drawings to paintings and screen prints graced the front covers of some of the world's most well renowned fashion magazines. What techniques do you use and how would you describe your illustrative style? M.H. I draw all my line work with a custom Montblanc pen – who I affectionately call 'Monty'. In the beginning I worked with Japanese brush pens, then I was asked to collaborate with Montblanc on a series of illustrations for their brand. The most exciting part of working with them was being flown to New York to complete their Bespoke program. This is where you enter an almost space age room and have your handwriting and drawing electronically measured. They then take all that digital information back to their head office in Germany and handcraft you a pen. The whole process takes about three months and I can tell you that when 'Monty' arrived and I first used him to draw, I shed a little tear because it was so special. He's now become my most treasured object! (aside from my family of course!) A.M. Could you tell me about your creative process during any given illustration? How long does it take to complete a drawing? M.H. It really does depend. Some illustrations are very quick and just almost jump out of the pen and others take more time and patience. I like to spend a good amount of time at the very beginning of an illustration to really plan out in my mind what the sketch will look like. I learnt that spending time on a concept that isn't quite right is a huge waste of time. If I build in enough time to really focus on the best concept for a drawing, executing it is so much more enjoyable and in most cases much faster! But in saying all that, the most enjoyable part of creating an illustration is the process – turning a blank white piece of paper into an image that comes to life! A.M. Which fashion illustrators or maybe fashion designers have had the greatest impact on your work? M.H. The most influential Artist to me has always been Erte. He was a Russian born French Artist who was prolific in the 1800's. His work was mainly in black and white line and just has such a unique and distinctive style. I loved that he ignored trends, even back then and just drew from his heart. I will forever be inspired by his work. A.M. Your fashion prints are sold around the globe. Literally, they are everywhere, in books, in magazines, on billboards, even on the walls of interior decorators' bedrooms and lounges. A real visual luxury. You also created a line of scarves, cushions, vases, rugs and kaftans. Let's talk about the last ones. The Silk Kaftan is very special to me. Worn by several cultures around the world for thousands of years. Many leading European and US designers including Emilio Pucci, Zandra Rhodes and Bill Gibb were inspired by the Ballets Russes costumes and the Art Deco movement, but mostly by Ottoman influence. What were your inspirations behind the Samba Queens Kaftan Collection? M.H. Kaftans in general are a clothing staple to me and I consider them timeless. Unlike any other fashion silhouette, they never really date. They've been chic forever and I really believe that will never change. To me they symbolise a sense of both elegance and confidence. It's the complete lack of structure that makes them so chic. As an artist they're also the perfect blank canvas to create a design. For my first Collection I was very inspired by Carnival time in Brazil. The brashness and confidence of The Samba Queens in particular was the starting point for my inspiration. I created four different Queens (one for each Kaftan design) and imagined what their world and ambiance would be. It's sheer joy for me to disappear into a collection like this in terms of creating it. I sat in the studio listening to Brazilian music, I burnt tropical candles and just immersed myself into the theme.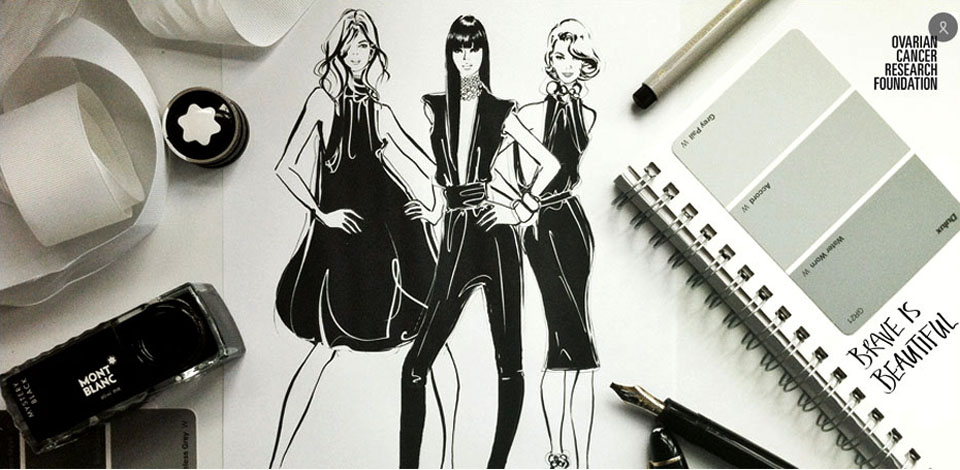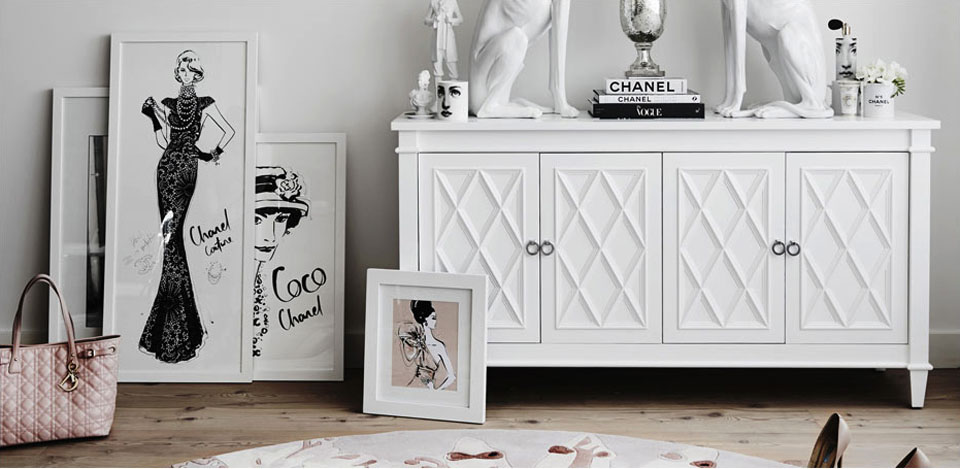 A.M. In the 1960s T-shape kaftans were characteristic for the hippie movement, described as a new eclecticism that transformed quickly into high-fashion status. They were loose-fitting, partnered with a pair of loose and wide-legged trousers. Made of wool, cashmere, silk or cotton. What are the focal points of your kaftans? M.H. My Kaftans are hand made with beautiful Silk Crepe. I love silk and I really wanted my collection to feel very luxurious. I chose Silk Crepe in particular because of the lightless and movement on the body. My scarves are Silk Twill but that's too heave to be worn in a full garment. The actual cut is very simple and I really wanted it to be as minimal and chic in shape as possible. Being very square it really drapes and hand hangs from the body giving an elegant elongated look. I also wanted my kaftans to work in both day and night. I pictured them worn over a bathing suit with a chic flat sandal by day and with heels and added jewels by night. A.M. Throughout the global evolution of textiles there has been a persistent impulse to modify the visual impact of plain fabrics with some degree of variegation. Following the implicit desire to decorate and adorn the human form, what led you to create your own collection of kaftan deluxe dresses? M.H. When I first started my career as a Fashion Illustrator I never planned to one day design Kaftans. Everything that I've ever created has been a natural evolution of my work. It was when I was last designing a collection of silk scarves that I held the printed silk up to me in the mirror and thought…This would make an incredible Kaftan…Once I have an idea in my head I have to create it, I'm like a runaway train! A.M. You seem to dress in a very conscious way with a visible touch of modern simplicity. How would you describe your personal style of clothing? M.H. I'm never sure how to describe my own personal style. I basically love three moods of fashion for myself: 1. Vintage white lace. I love lace in general, either in a very ladylike flowing style or quite structured. 2. I love black tailoring, YSL suiting, Chanel collars with black tie bows and 3. I love 70's style resort wear – Pucci, vintage Halston, Oscar de la Renta. I love mixing special designer pieces with vintage. The most important thing for me is to feel both comfortable and inspired with what I'm wearing. At the end of the day, fashion is one of the greatest pleasures in life, it should be enjoyed! A.M. After this amazing meeting, I can't do anything but go ahead and order one of your famous Kaftans. For a start.